Table of Contents:
USPS Priority Mail is a convenient, cost-effective method for shipping items in a timely manner. The process for shipping items through Priority Mail is simple, making it an ideal option for small businesses that don't have resources for a shipping staff.
USPS Priority Mail features and rates vary according to the type of Priority Mail you're shipping (Flat Rate, Regional Rate, or Commercial Rates). Below, we provide a full breakdown of Priority Mail to help you decide if it's a good fit for your business's shipping needs.
What is Priority Mail?
USPS Priority Mail is the fastest mail class at USPS. Packages typically deliver faster than First Class Mail and can weigh up to 70 pounds, with a maximum combined length and girth of 108 inches. To calculate girth, measure the distance around the thickest part of the package.
How long does a Priority Mail package take? Priority Mail packages typically arrive within 1-3 days. For an even faster option in this mail class, you can opt for Priority Mail Express.
Priority Mail is a domestic service, meaning it can be transported:
Within the United States

From the United States to

U.S. territories, Marshall Islands, Federal States of Micronesia

U.S. military and diplomatic posts, and the United Nations, NY
Priority Mail is typically compared to UPS and FedEx packages that weigh under 10 pounds and fit in a mailbox. It's delivered 6 days a week, with no extra fee for Saturday delivery. Priority Mail packages also include insurance, and the amount covered depends on how you purchased the label. Retail customers qualify for up to $50 or $100 insurance and manifest mailers paying with a permit imprint qualify for up to $100.
Learn how to file USPS insurance claims in our blog!
USPS Priority Mail Features
When you use USPS Priority Mail, you get access to extra features for your convenience (most of them at no additional charge).
Mail packages from any local Post Office, or just hand prepaid packages to your letter carrier at your normal mail delivery time at no additional charge 

Free USPS tracking 

Package Pickup and Pickup on Demand services available

You can pay postage by stamps or postage meter—packages over 13 ounces. with postage paid by stamps have to be handed to a local Post Office clerk (Note: You can't use a USPS Corporate Account to pay for Priority Mail postage)

Packages can be forwarded or returned with no charge
How much is Priority Mail?
You can send packages based on weight and dimension, or via Priority Mail flat rate envelopes. Prices for Priority Mail packages depend on how the mailpiece is packaged.
Priority Mail packages not mailed in flat rate envelopes (that don't qualify for dimensional weight or balloon rate pricing) are charged based on zone and weight. The zone is dependent on the shipping origin and destination. All fractions are rounded up to the nearest whole pound.
Retail First-Class Mail packages that weigh over 13 ounces. are automatically mailed at the Priority Mail service price. If you have USPS Priority Mail Commercial Rates, that maximum for First Class Package Service is increased to 15.999 ounces. You can always request for items that weigh less than 13 ounces to be sent at the Priority Mail service price if you want to add on a Priority Mail extra service, but the cost could be nearly double.
Flat Rate Envelope Pricing
If an item is packaged in a flat rate envelope or box, the sender pays a set price independent of the item's weight or destination, up to 70 pounds. For convenience's sake, USPS allows all Priority Mail envelopes smaller than the 12.5" x 9.5" Priority Mail Flat Rate Envelope to be mailed at the flat rate envelope's price (even if the envelope isn't technically a flat rate envelope).
If your items fit into Flat Rate Envelopes or Flat Rate Small Boxes, using these free priority mailers will always be more affordable than USPS Regional Rate boxes, regardless of weight and zone. Avoid stuffing, as your item only fits in the Flat Rate box if the container flaps close and seal within the normal folds.
For a deep dive into USPS Priority Mail Flat Rate options and when to use them,
read our breakdown
here.
Regional Rate
The Regional Rate service is a blend of the flat rate and zone pricing options. While it requires specially marked boxes, it is a cost-effective method so long as items fit in the box. The boxes can be ordered for free from USPS and delivered to your door.
The contents of your Regional Rate box can't exceed 20 pounds. Regional Rate Boxes (A and B) are the best price when shipping to a lower zone/closer destination. They're meant for small, dense packages being shipped short distances. If you're shipping to a higher zone (further distance), then Medium and Large USPS Flat Rate boxes are the more affordable option. 
The Priority Mail Regional Rate is a great way to save on shipments that weigh less than 20 pounds. Zones are key in taking advantage of the Regional Rate, as rates vary by zone. 
Commercial Rates
USPS offers commercial pricing at a discounted postage rate. It's lower than retail pricing and available to qualifying shippers (ShippingEasy subscribers included, regardless of volume) with an annual shipping volume greater than 50,000 units/year. 
However, it's important to note that Commercial Pricing requires a contractual agreement with USPS.
Commercial Rates vs. Retail Rates
On average, commercial rates will save you 17% off retail but can be up to more than 40% in some instances.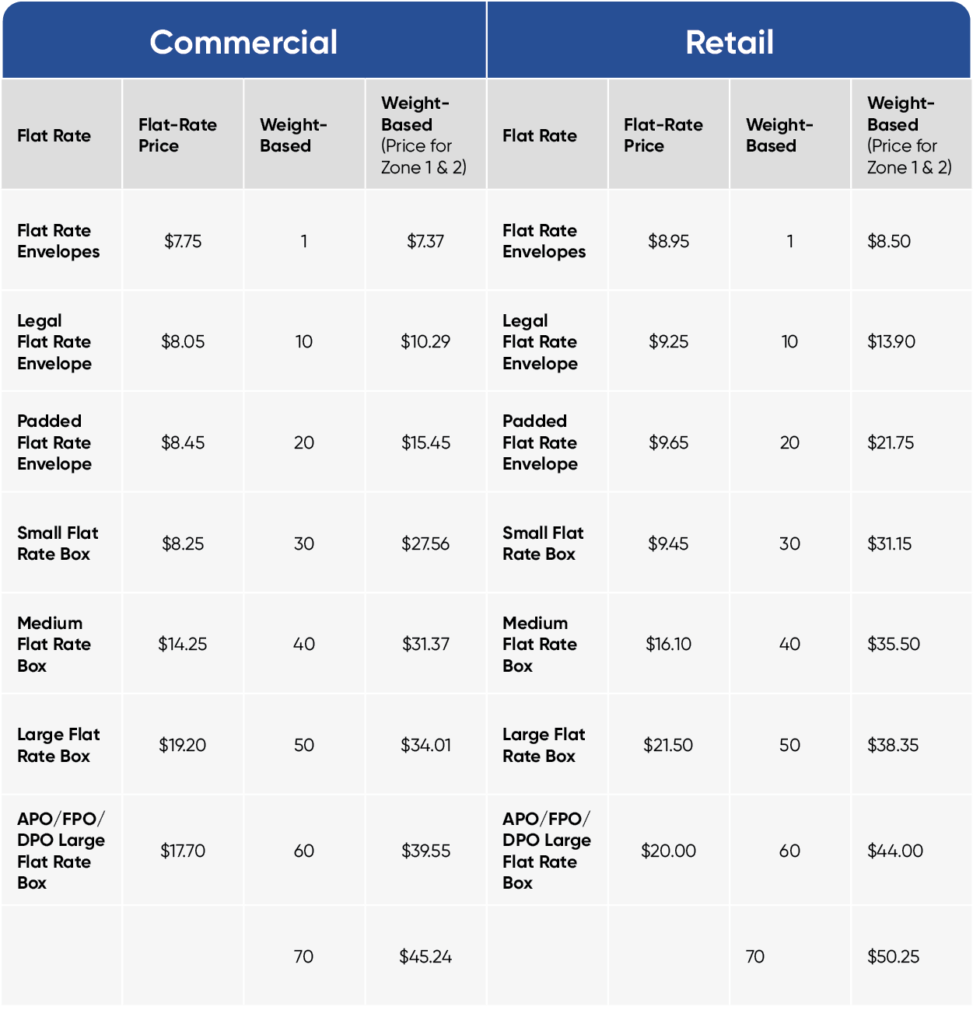 Conclusion
USPS Priority Mail is a great way for small businesses to send out packages at an affordable rate. With discounted commercial rates, so many different ways to ship, and convenient extra features, Priority Mail makes the process easy for even the most inexperienced shipper. Click below to start a free trial of ShippingEasy today to access USPS Commercial Rates, easy shipping automation, and award-winning support at your fingertips.
Recommended Bookmarks
Flat Rate Shipping: What Are USPS Flat Rate Boxes?
Shipping Unboxed: FAQs about Shipment Dimensions
Shipping Unboxed: FAQs about USPS
USPS Priority Mail® Regional Rate Boxes
What Are USPS Zones & How Do They Affect My Shipping?
The following two tabs change content below.
Latest posts by ShippingEasy (see all)