With the end of the holiday season coming to a close soon, last-minute shoppers are about to start their shopping spree for gifts. While the past few years has seen a smaller number of in-person shoppers weaving through the stores in a mall, this year will be an exaggerated departure from years past. COVID-19 drastically reduced in-person shopping over the Black Friday weekend. In fact, e-commerce shopping has outpaced projections by 4-6 years. So while it is a good time to sell online, it is also a stressful time for e-commerce merchants… more so. 
Last minute holiday shoppers can be difficult to cater to. You need the inventory and holiday packers to be present to satisfy any holiday rush, you have to ship the packages out quickly, and the carriers have to deliver by December 25th. You also have to do this in the middle of a pandemic where carrier delays and supply chain delays have been the norm. 
Know Carrier Holiday Deadlines
The first thing you will want to do is become familiar with the holiday shipping deadlines. Due to the pandemic, shipping times will be a little longer than they normally are during the holiday season. As you can see below, many express services are still on track for their day-definite delivery timeframes, however standard Priority and Ground services take a little longer to reach their final destination.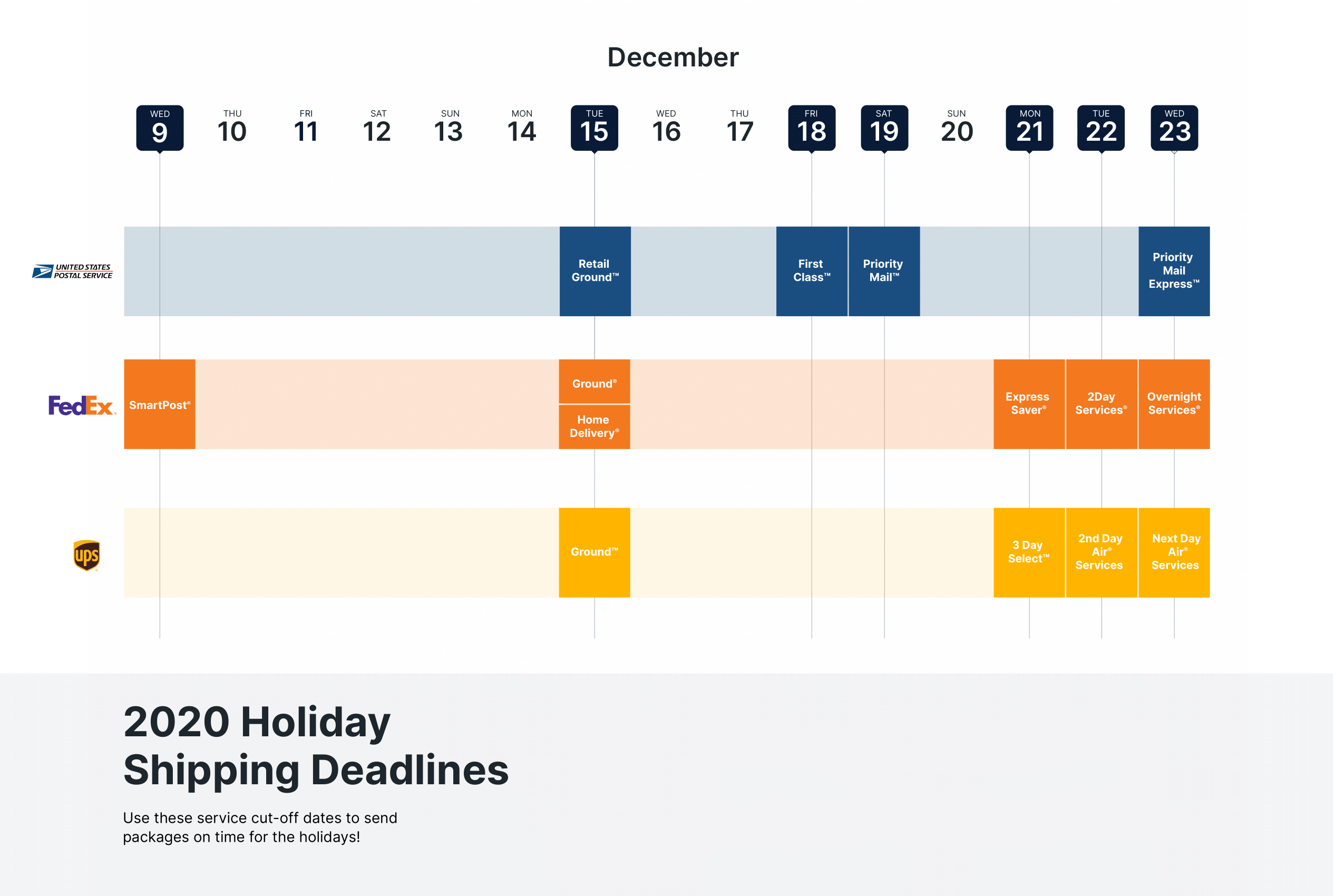 Utilize Batch Shipping
It's time-consuming to create every label individually, and it's also inefficient. Why do in 50 clicks what you can in 5? Batching labels can save hours a day on shipping. If you know which carrier services and package types your orders need to be shipped with, manually applying this to each order is a waste of time and money. 
Automation Rules
When batch shipping, automation is key. Otherwise, you're having to manually configure orders—defeating the time-saving efforts of batch shipping. Luckily, ShippingEasy makes automation easy. Shipping rules allow you to apply different actions to your orders based on parameters that you define. For instance, if you want to ship most parcels with USPS Priority Mail—but you know orders going to Zone 7 and above ship more affordably with UPS Ground—you can set up a rule to automatically apply UPS Ground to an order without ever looking at it.  
Ship More Quickly and Affordably
Whether you cover the shipping or your customer pays it, there's no reason to choose between the cheapest and quickest options. ShippingEasy offers both! Your last-minute customers are going to need their orders quickly. So, if they choose an express shipping option, you can now save money for yourself and your customer by taking advantage of ShippingEasy's discounted carrier rates. Take advantage of discounts for UPS and USPS shipments. 
Prepare for Returns
In-store returns have decreased alongside in-store shopping in 2020. In fact, our sister company ShipStation found that 67% of consumers are unlikely to complete a return in stores for the foreseeable future. 
However, returns are still going to happen. In fact, the same report found that 86% of consumers say that ease of returns is a major factor when making a final purchase. As with everything else moving more online in 2020, returns have too. Online merchants should expect to start 2021 off with customers exploring return or exchange options. 
Preparing for holiday returns is typically a fiasco, and this year's holiday season may become even more hectic. 69% of consumers say they expect to do more holiday returns in 2020 than in 2019, with consumers saying they expect to do 26% more returns this year, on average. However, there is a way to prepare for this. 
Prepaid Return Labels
Apart from customers wanting returns to be quick and easy, convenience is a large driving factor. Moreso, customers are vocalizing how they expect to process and return items. 78% of consumers would rather have a prepaid return shipping label with the return cost deducted from their refund. Think about it like this, the action of buying online is incredibly easy. A few clicks and a transaction is complete. This is becoming the broader expectation of the entire buying process through delivery to returns. Consumers are aware that there will sometimes be costs associated with returns. For more information on holiday returns, check out our holiday returns blog! 
We're behind you
Here at ShippingEasy, we understand that these are trying times for small business owners across the country and world. Our team has been working to help business owners adapt—whether that means better understanding fulfillment processes or getting started with their first online store. Let's make sure you survive COVID-19 as a small business owner and come out stronger after all of this into the future.
The following two tabs change content below.
Latest posts by James Messer (see all)