As a savvy online merchant, you're aware of the importance of mobile shopping. You probably can see in your analytics platform that you have a ton of traffic coming to your website from mobile. This could be especially true if you sell on Amazon. Which makes optimizing your Amazon listings for mobile an especially crucial item on your pre-holiday to-do list.
Practical Ecommerce has made two, perhaps not-so-bold predictions about the 2019 holiday shopping season.
More than half of all e-commerce will originate from a mobile device (some sources show it at around 40 percent of the 2018 shopping season)
Amazon will account for 45% of sales (up from 41 percent last year)
Think mobile-first for how Amazon listings appear
Something that not every Amazon seller considers is how vastly different listings show up on desktop versus on mobile. Once you see these differences, it becomes pretty apparent how important optimizing your Amazon listings for mobile is. First, let's look at the desktop version of one of our awesome Amazon sellers, RhoadsRoast Coffees.
That's a great listing, completely optimized for SEO keywords and packed full of important information for the customer. Now let's see how that exact same listing looks on mobile.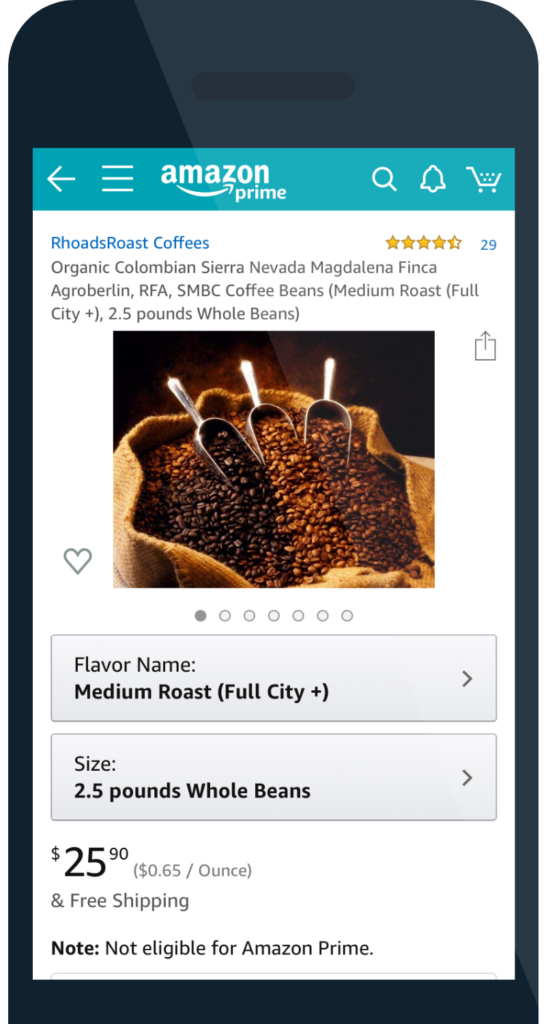 Much of that same written out information doesn't appear until you've swiped quite a bit. In fact, all of the below items are placed before the description and features & details.
Similar items to consider
Add to cart button
Buy now with 1-click button
"Frequently bought together" recommendations
Sponsored products related to this item
Question box
After scrolling past all of those items, you finally get to the description and features & benefits section. Back at the top, what is most prominent? Images.
Mobile optimization keys in on having great product photos that give your customers a good indication of the product's features, particularly if these features are crucial to the product. In coffee, this may not be as important. In that case, you can use images to tell more of a story, such as where the coffee comes from and how it is packaged.
Beyond that, many customers are coming to Amazon to purchase after they've already done their research, and they're doing it on mobile. This is often via the Amazon mobile app, but also in their web browser. If they've already done their research, it's not as important to highlight the full description before the purchase button, as it just gets in the way of what a customer is there to do—make a purchase.
Best means of content formatting for mobile
In general, people don't like to read huge blocks of text, particularly on a mobile device. This is especially true when they're eager to make a purchase and already know what they want. They may just be looking for a couple more details, and that's why it's crucial to format your descriptions properly when optimizing your listings for mobile.
Take a look at the details section for the same RhoadsRoast Coffees listing on Amazon. They break down the important points into bullets, being sure not to ramble on. Any coffee aficionado will get the information they need at a glance to know if this coffee is right for them.
Amazon allows sellers to add formatting such as bold text and bullets to make listings easily skimmable. That caters to the mobile shopper and helps your listings succeed.
Optimizing Your Amazon Listings' Titles for SEO
Let's face it: Amazon is a search engine. As such, just like for Google and Bing (people still use Bing, it turns out) and any other search engine, you need to optimize for the keywords your customers are searching for. That starts with the title.
Take a look at another of our customers, People's Choice Beef Jerky. They're coming up in the search results with other nationally recognized brands, even ones who've earned the "Best Seller" denomination.
Notice a few other things they've added to the title to get found. "Sugar-free" and "carb-free" are two keywords likely to be used by people on paleo diets looking for snacks they can have. This is smart SEO on the part of People's Choice Beef Jerky, and that's one reason they've been in business since 1929.
Before the holiday season kicks into full swing, set aside some time for optimizing your Amazon listings for mobile to make sure when the masses hit their phones in search of gits, your products are found.
While we're on the topic of optimizing your Amazon business, let's take a moment to think about your Amazon reviews management and inventory management. Both of these can bog you down while you're trying to keep up with the holiday rush, but they don't have to.
ShippingEasy's Amazon Seller Suite packs all the tools you need to acquire new reviews, streamline your inventory across all channels (even FBA and Multi-Channel Fulfillment), and handle your shipping. Even better, you can check it all out free for 30 days to make sure it's right for you. We think it will be. Click below to get started, and our Amazon experts will help you get set up before the holiday rush hits!
The following two tabs change content below.
I'm a digital content and social media nerd with a passion for telling stories, helping connect people, and finding joy in the details.
Latest posts by Rob Zaleski (see all)