The holiday season is not only a wonderful time of year to send perishable goodies to your friends and family, but it's closer than you think. The only problem is trying to figure out the best way to ship them to make sure your treats get delivered on time and without damage. We have good news! With USPS, some perishable items can be sent out, as long as you take special precautions with your shipping.
For more information on shipping liquids, check out our blog!
What is Perishable Mail?
USPS considers perishable mail to be "anything that can deteriorate in the mail and thereby lose value…under ordinary mailing conditions." It's important to know that USPS also considers perishable mail to be sent at the shipper's own risk. That's why knowing the guidelines for this specific class of mail is crucial.
Perishable Mail Guidelines
First and foremost, anything that can deteriorate quickly isn't able to be mailed, including fresh fruits and veggies. However, dried fruits and veggies are in! Items such as eggs and meat can only be mailed domestically, and there are specialized requirements for sending both. With cookies and other commonly seen holiday treats, it's majorly important to make sure they are delivered without any unnecessary delays or adjustments. Let's dig into more information about how some of these items have to be shipped.
Learn more about shipping speciality items with our Shipping 201 blog!
How to Ship Eggs
As we mentioned earlier, eggs can only be sent domestically. Each egg needs to have its own secure cushioning, and the entire shipment needs to be packaged in a way that will enable the eggs to hold up to any shifting or movement during transit. It's also super important that the eggs be packaged in a way that keeps them from being affected by any temperature changes. Anything perishable needs to be marked as perishable as well.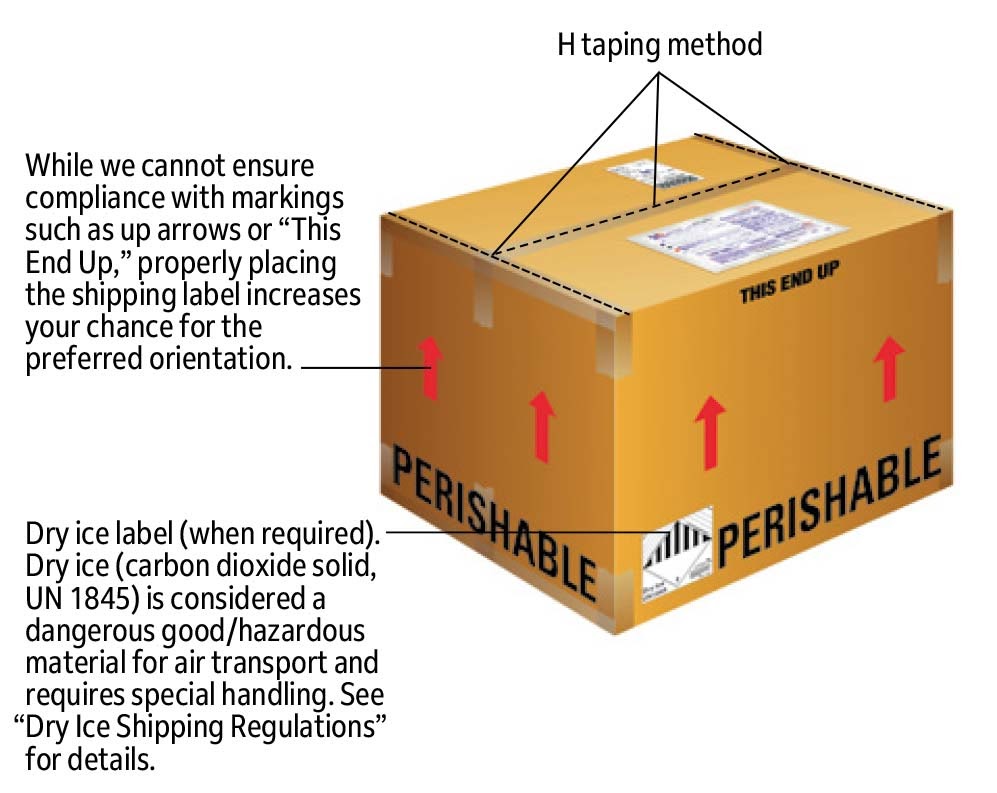 How to Ship Meats
Sending meat can be a little tricky, but as long as you follow the guidelines from USPS you should be all set. Only meats in accordance with USDA regulations can be sent domestically through USPS. If the meat is being sent with dry ice, there are dry ice specifications to keep in mind. Here's a little more information about dry ice packaging from USPS:
"Dry ice is permitted to be mailed when it is used as a refrigerant to cool the content of a mailable hazardous or nonhazardous material. Packages containing dry ice must be packed in containers that permit the release of carbon dioxide gas and conform to 49 CFR 173.217 and 175.10(a)(10). Mailpieces containing dry ice are subject to the following conditions, as applicable:
International Mail

. Dry ice is prohibited.

Domestic Mail via Air Transportation

. Dry ice is permitted in quantities of up to 5 pounds per mailpiece. Mailpieces containing dry ice are subject to the conditions for Packaging Instruction 9A in Appendix

C

, as applicable.

Domestic Mail via Surface Transportation

. A mailpiece sent via surface transportation may contain more than 5 pounds of dry ice. Mailpiece preparation is subject to the conditions for Packaging Instruction 9A in Appendix

C

.
Note: A mailpiece that is prepared for surface transportation must not, under any circumstances, be routed via air transportation."
As with eggs, meats need to be marked as perishable on the package so that they are handled properly by USPS. For more information on sending perishable items and other unique products, check out this guide on mailability from USPS.
Read more about dry ice with our How to Ship Ice Cream blog.
Other Food Items
When it comes to cookies, dried fruits and vegetables, and other items, there aren't as many requirements for packaging, but USPS still has some recommendations including:
Double-checking your baked goods to make sure they aren't still raw or need any additional cooking.

Including labels on the inside and outside of the package. This way, if the outer packaging is damaged, the recipient knows these goodies are from you!

Choosing packaging that isn't too small to avoid any ripping or tearing or isn't too large to avoid your treats being tossed around in transit.
For more tips and tricks from USPS on sending baked goods and other non-perishable food items, check out their blog.
If you can't be with your loved ones for the upcoming holiday season, sending greeting cards as well as care packages to each other with your favorite holiday snacks and treats might be a great option. Whether it's the meat for your holiday celebration dinner or cookies to snack on during your favorite holiday movie, it's important to package and ship these food items carefully and within USPS's guidelines.
The USPS Retail Postage Price Calculator is also a great resource for calculating those costs in advance. Eggs and meat have more particular requirements, but your non-perishable snacks also need some special packaging. Keep your holidays tasty by marking perishable goods as perishable, reviewing what can and can't be shipped, and packaging your goods within all of the USPS guidelines and recommendations. Season's Eatings!
For more information on shipping food from one of our food-based merchants, check out our case study with Cornucopia Popcorn!
The following two tabs change content below.
Baillee Perkins
Baillee Perkins is a writer of shipping by day and pop culture by night, so her Google search history is an actual nightmare.
Latest posts by Baillee Perkins (see all)