FedEx and UPS have begun releasing information on their residential surcharges during the holiday season, as well as information around FedEx and UPS 2020 shipping rate changes. Below is what we know so far.
Holiday Residential Surcharges
Both UPS and FedEx have announced that they'll be suspending residential surcharges, a fee added to a shipper's invoice for delivery to a residential home or building, for the holiday season.
UPS released the following statement:
For the 2019 holiday shipping season, there will be no Residential Peak Surcharge. Peak Surcharges applied to Over Maximum Limits, Large and Additional Handling packages have been modified.
They do not specify a date range just yet for what is considered the "holiday shipping season" but we can likely assume that means at least the week of Thanksgiving, Nov. 25, 2019, to the week of New Year's Day, ending Jan 5, 2020. Peak surcharges will still apply to some package types, however.
FedEx has also released the following statement on their holiday residential surcharges:
FedEx is not charging additional holiday residential surcharges, except for shipments that are oversized, unauthorized or that require additional handling — these will be in addition to existing surcharges.
FedEx states that the above is effective Oct. 21, 2019 – Jan. 5, 2020. Both FedEx and UPS will still charge fuel surcharges during this time.
Effective Jan. 20, 2020 for FedEx
Fuel surcharge will be assessed on the following additional surcharges effective Jan. 20, 2020:
For FedEx Express shipments: Additional Handling Surcharge, Additional Handling Surcharge – Non-stackable, FedEx® Delivery Signature Options, FedEx® Collect on Delivery and Peak – Additional Handling Surcharge.
For FedEx Ground shipments: Additional Handling Surcharge, FedEx Delivery Signature Options, FedEx Ground® C.O.D., FedEx Ground® Electronic C.O.D., FedEx Home Delivery® Convenient Delivery Options and Peak – Additional Handling Surcharge.
How are fuel surcharges calculated? The fuel surcharge percentage for FedEx Ground® services is subject to weekly* adjustment based on the weekly published national U.S. on-highway average price for a gallon of diesel fuel. That asterisk is there because FedEx states that there is a lag between the fuel price index and the fuel surcharge. FedEx may use a longer lag when the fuel price posted on eia.gov is delayed. Below is an example from FedEx on how those fuel surcharges are represented.
2020 FedEx Shipping Rate Changes
The effective date for the 2020 FedEx shipping rate changes is January 6, 2020. While not all specifics are available just yet, below is a summary to set expectations.
FedEx Express package and freight standard list rates will increase an average of 4.9 percent for U.S., U.S. export and U.S. import services
FedEx Ground and FedEx Home Delivery standard list rates will increase an average of 4.9 percent
FedEx International Premium® rates will increase
Minimum rates for FedEx Express services will increase
FedEx Ground Multiweight® rates will increase
FedEx SmartPost rates will increase
A 4.9 percent average increase has been about standard for what we've seen from FedEx over the past few years, so this shouldn't come as much of a surprise to many who've been shipping FedEx for any substantial amount of time. While there aren't any specifics yet, the popular FedEx One Rate service will also experience a change. As of this writing, there's no indication of what that change will be.
Below is a preview of the upcoming FedEx Ground shipping rates. Click the image to view the entire pdf.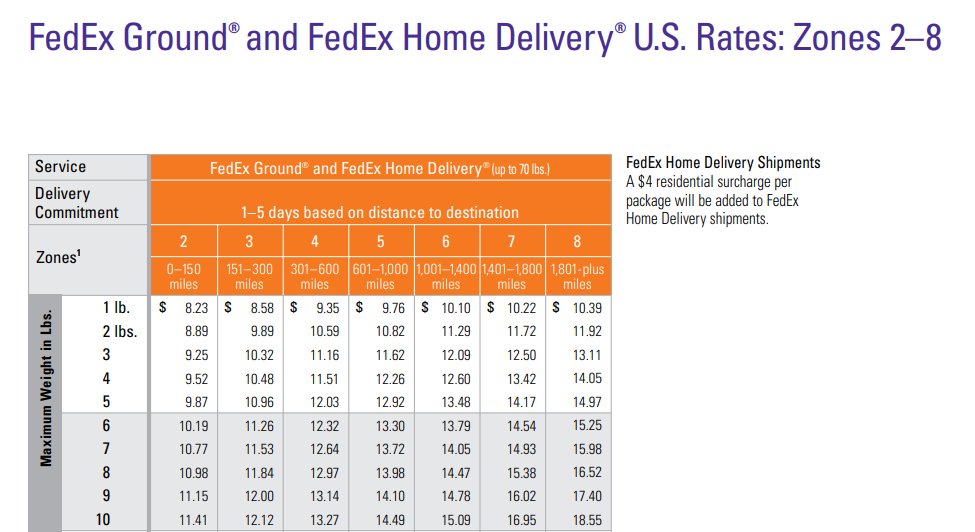 FedEx Freight rates will also see an increase at an average of 5.9 percent.
2020 UPS Shipping Rate Changes
The effective date for the 2020 UPS shipping rate changes is December 29, 2019. Nearly every year, UPS launches their changes before USPS and FedEx do. Below is a summary of the changes they have announced so far.
The rates for UPS® Ground, UPS Air, and International services will increase an average net 4.9 percent
A Rebill fee will be assessed for each request to change the billing account for a shipment
A Prohibited Item fee will apply to packages containing prohibited articles or restricted articles not in compliance with all UPS policies and procedures and applicable laws and regulations if found in the UPS system
Value-added services and other charges will apply to undeliverable packages returned to the shipper
The weight threshold for applying an Additional Handling surcharge will be lowered from 70 pounds to 50 pounds actual weight for UPS Ground and UPS Air services
The list of ZIP codes to which Delivery Area Surcharges and Extended Area Surcharges apply will change—download an updated zip code list here
A processing fee will apply to each request to file a single entry under Entry Type 86 for a shipment that normally qualifies for U.S. customs clearance under a consolidated manifest
The rates for certain value-added services and other charges will increase
Below is a preview of the UPS 3 Day Select rates for packages up to 10 lbs. Click the image to see the full rate breakdown pdf.
UPS has often been the go-to for very heavy packages, so it will be interesting to see how the choice to reduce the Additional Handling surcharge threshold from 70 to 50 pounds pans out.
The rates for UPS Air Freight within and between the U.S., Canada, and Puerto Rico will increase an average net 4.2 percent. UPS Freight non-contractual less-than-truckload (LTL) shipments rated on the current UPS Freight Tariff 580 will increase an average net 3.9 percent.
Serious sellers take a multi-carrier approach to make sure they're getting the best rates for their needs. Learn why serious online sellers use ShippingEasy by clicking below.
The following two tabs change content below.
I'm a digital content and social media nerd with a passion for telling stories, helping connect people, and finding joy in the details.
Latest posts by Rob Zaleski (see all)