Shipping is one of the most important, yet time-consuming and costly elements of running an e-commerce business. When you're doing research on the right shipping software for your company, there's so much to consider. Here at ShippingEasy, we get it. That's why we want to help you conduct your research in the most effective way possible.
Below, we go through four of the most important things you need to consider when researching a shipping software solution. You'll find some resources and links, some FAQs, and hopefully, some direction on finding and adopting a solution that works for your business.
Calculate your shipping volume and find a plan that works
If shipping software doesn't accommodate your volume needs, big or small, then it's not worth considering. This is crucial for low-volume shippers and high-volume shippers alike. Take a look at your shipping volume month-to-month over the last year, particularly busy periods where you'll have the greatest needs, and use that to help you in your solution assessment.
If you're a small office/home office (SOHO) business, you may not be able to swing the cost of an account with a monthly charge for only a few packages a week. You still want to save money on postage and avoid wasting time in line at the post office, so you can focus on building your business. Not all shipping software solutions offer free plans, but many offer free trials. That trial might be enough to decide if you like the software enough to pay for it, but if your business isn't growing rapidly, you may need to narrow your search to companies that offer a free plan.
Alternatively, when you're shipping thousands of packages per month or per day, you need to know that a shipping software platform can help you streamline your processes to increase efficiency and get you the discounts on postage you need to stay competitive. In this case, you'll want to look at how robust the solution is.
Does it accommodate multiple users and locations? Is there robust enough automation to help cut time spent on shipment processing? Does the software help you manage multiple suppliers and purchase orders smoothly? We cover some of these questions in the next section, but you'll want to make sure you're considering these key points.
With those considerations begs the next question: can this shipping software grow with you as your business grows? We know it can be difficult to make the transition from one solution to another once you've reached higher volume, which is why our Enterprise level solution offers custom onboarding and a dedicated account manager who will assist in making the change and set up automation processes to streamline everything as you scale.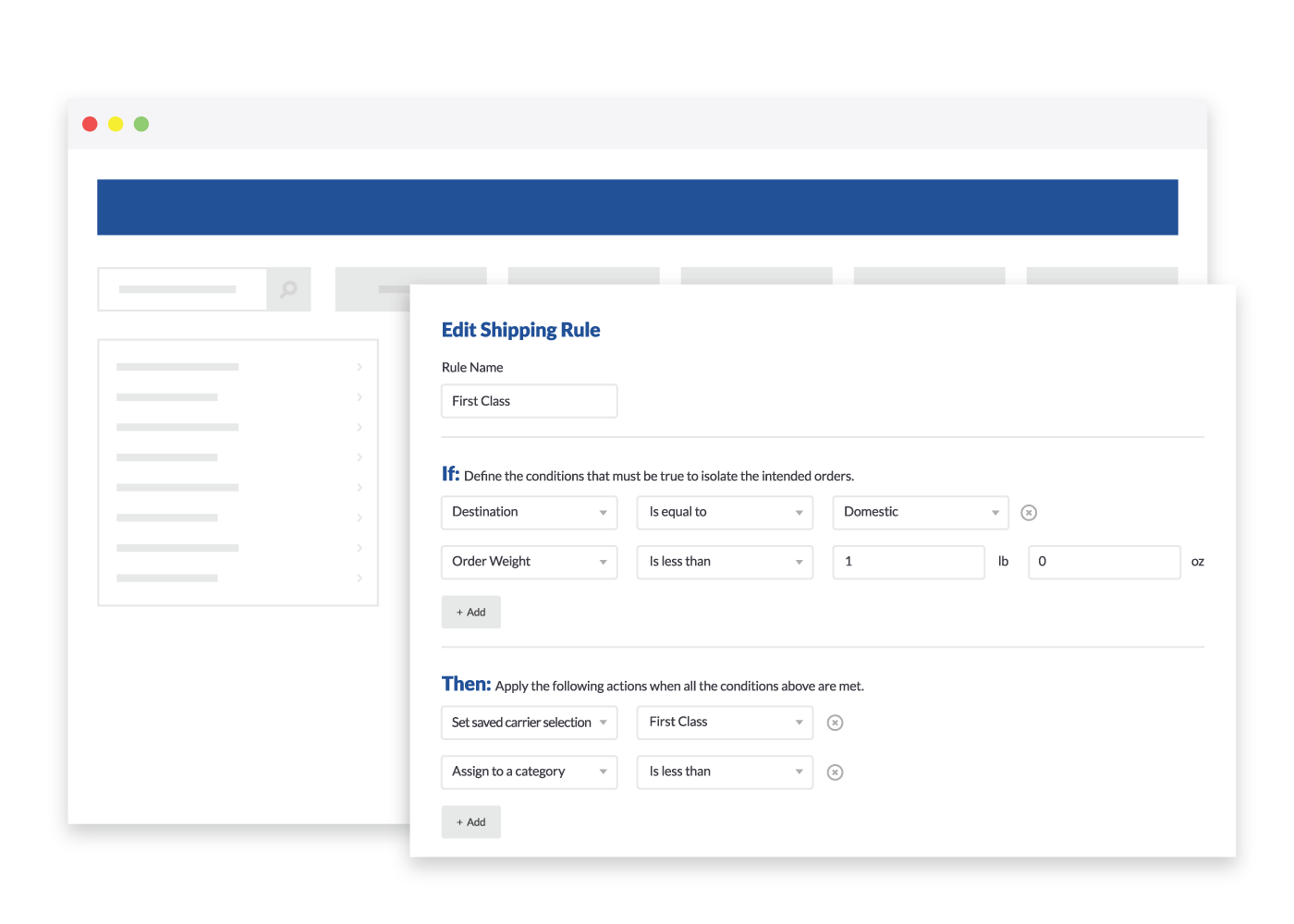 Understand what a shipping software platform really does for you
Modern shipping software needs to be more than just a place to print your shipping labels. With all the solution options out there, this is now table stakes. If you come across shipping software that's not offering you Commercial Plus shipping rates on a paid plan, you may as well exclude it from consideration, as you'll find the best platforms offer these rates now.
Some questions to ask when assessing a shipping platform beyond label printing are:
How will this shipping software make my business more efficient?
Does this software accommodate my current marketplaces and stores, as well as potential future places I could sell on?
Will I have an expert available to answer questions and solve problems when I need them, and how is that service rated in the market?
Can this software help me manage international orders easily and effectively?
Are there additional aspects to the software that solve other business needs and help me increase business?
Is this company a thought leader in the industry? Do they contribute to publications, have an active blog and knowledge base with the information I'll need to help with research now and in the future?
It might not even be bad to seek out current customers/users of the shipping software you're considering (once you've narrowed your choices down) to see if they can give you any insight into how the user experience is. One of the best ways to find current users is check reviews. Speaking of which…
Check ratings and read reviews (many of them)
There's a statistic out there that says people trust reviews nearly as much as personal recommendations. Often, reviews are honest assessments of what the user experience is like for tech, and reading multiple reviews across sites can give you a good general idea of what it's like to use a shipping software solution in your day-to-day business.
Here are some of the major review sites out there, most of whom vet the reviews and do their best to ensure that they come from real people and experiences.
Capterra – Capterra is a free resource to help you find the right software for your business.
G2 Crowd – G2 Crowd has real-time and unbiased user reviews help you objectively assess what is best for your business. Leverage the crowd, limit your risk, and get what works.
Fit Small Business – Fit Small Business is the leading digital resource for small businesses, providing the information they need to succeed.
Shopify App Store – Powerful new features, services and plugins for your Shopify store, with reviews from real users.
SoftwareAdvice – Software Advice™ is the leading online service for businesses navigating the software selection process.
GetApp – GetApp is an ecosystem of business app and software discovery platforms. Its mission is to advise professionals to help them find the software and apps that best meet their needs.
This is by no means a completely exhaustive list, but does represent some of the major review sites out there for shipping software customers.
Assess how shipping software supplements other needs
When you can bring multiple business solutions under a single platform, you're immediately increasing efficiency and accuracy. Trying to tie external applications together with your shipping software leaves room for error, miscommunication, and lost efficiency. Plus, when you can immediately tie your order and shipping data back to other elements of your business, you open up the opportunity for personalization, faster turnaround times, and saved money. Let's look at a few types of integrations and add-ons you should be seeking out.
Email Marketing/Customer Marketing
You should be looking for a seamless integration with an email service provider (ESP) like Mailchimp, ActiveCampaign, Emma Email, Constant Contact, or an in-app add-on like ShippingEasy's Customer Marketing. Either way, what you'll want to see is the ability to take your order data, customer data, purchase history and more, and turn that into actionable email campaigns.
Look for features such as:
Audience segmentation tools
Email templates
Product recommendations and reviews
Abandoned cart emails
Automated email marketing campaigns
When you can turn your customer purchase habits into campaigns that walk them through your post-purchase funnel, you can begin to create repeat buyers. This is crucial to building your business, as repeat buyers can become lifelong customers. It costs five times more to attract new customers than to nurture and maintain current customers, so you're vastly increasing business efficiency.

Integration Options
A shipping software platform does you little good if you can't tie it to your stores, marketplaces, and systems necessary for building your business. It should ideally feature as many integrations as possible. A quality shipping platform, once integrated, will provide automation to help you streamline as many of your shipping processes as possible—processes like shipping automation, selecting carriers and shipment methods, label printing, and rate comparison/selection. Once your shipping software is connected, you should be able to expect seamless connections that provide automatic order downloads and tracking updates back to your stores and marketplaces.
Another business integration you should look for is accounting. Proper accounting requires meticulous tracking of all your costs, expenses, and revenue, and you want to make sure that you don't miss a thing by manually entering and tracking everything. If your shipping software doesn't have a direct connection to something like Quickbooks, make sure they at least have a partner that assists in that. For example, ShippingEasy partners with Connex to offer end-to-end automation for shipping and accounting.
Inventory Management
Along with shipping, inventory is one of the highest costs of selling goods online. You don't want to leave anything to chance when it comes to managing your supplier relationships, creating purchase orders, and managing your stock.
Again, you'll want to look for a shipping solution that has an integration with a robust inventory management platform, or one that has an add-on built in.
Look for features such as:
We know choosing the right shipping software can seem like a daunting task at times. But we hope these four directives make it easy (it's in our name, after all). Of course, we also hope you choose ShippingEasy so we can make your life easier and help you grow your business. If you'd like to try us FREE for 30-days, just click below to get started!
The following two tabs change content below.
I'm a digital content and social media nerd with a passion for telling stories, helping connect people, and finding joy in the details.
Latest posts by Rob Zaleski (see all)