On January 21, 2018 the new USPS rates go into effect. Most Shipping Services products will average a 3.9% price increase across the board, including the USPS Priority Mail rate increase. In this article, we'll do a deep dive into what exactly Priority Mail is, who should use it, and what kind of Priority Mail shipping rate increases we'll be seeing in 2018.
What is Priority Mail?
Priority Mail is a fast domestic shipping service, which typically delivers in 1 to 3 business days depending on where your package originates and where it's being sent. Priority Mail prices are based on weight and zone. Zones are determined by your package's origin and destination.
For example, if you're shipping items locally within the same city, this may be Zone 1 or 2. But if you're shipping across the country or to a non-metro area, your package may be priced based on Zone 7,8, or even 9 rates.
Priority Mail Features
Free Package Pickup service at your home or office
Includes USPS Tracking® when you ship online
Delivery in 1 to 3 business days
Includes up to $50 of insurance with most shipments (restrictions apply)
No surcharges for fuel or residential, rural, and regular Saturday delivery
Flat Rate and regional rates available
Who should use Priority Mail and when?
If you need your package to arrive quickly within 1 to 3 days, but don't want to pay the extra cost to expedite, Priority Mail is for you. Something to keep in mind though, particularly during the holidays, is that this is not a guaranteed delivery window. Delays can and do happen, so if you have customers pushing their orders to the wire for holiday delivery, Priority Mail may not offer the guarantee they need.
That being said, with Christmas falling on a Monday this year, the fact that Priority Mail will be delivered on Saturday without an extra cost is a major benefit. Priority mail also gives you the flexibility of Flat Rate, Regional Rate, and International, all helping you minimize costs by optimizing the way the shipping cost is calculated.
You can also get free Priority Mail shipping supplies from the USPS. Head here to find out more.
What are the 2018 Priority Mail shipping rate increases?
Across the board, the Priority Mail shipping rate increases in 2018 are also about 3.9%. But you'll see that for some zones and weights, there was actually a slight decrease. Below you'll see the new rates.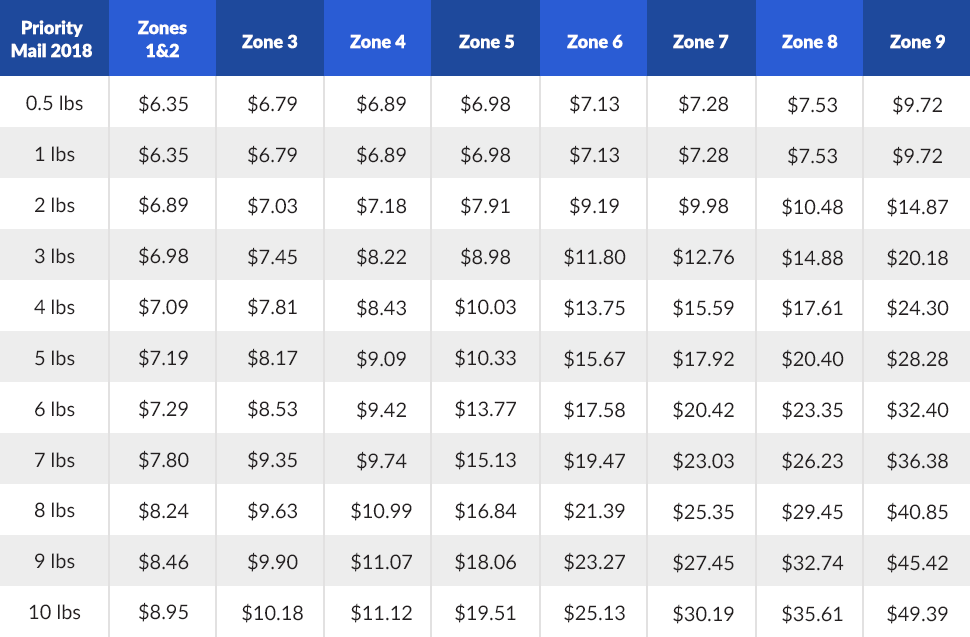 Let's look at an example. Let's say you have a 4 lb package. Here's what the Priority Mail shipping rate increases or decreases look like, depending on where your package is going.
As you can see, if you happen to be shipping the package to Zones 4 or 5, you actually get a better rate than 2017's rate. These instances are pretty few and far between however, and you should pretty much expect your rates to increase.
That being said, Priority Mail still offers the best combination of time and cost-savings compared to other methods with a 1 to 3-day window. In addition, you may qualify for ShippingEasy's proprietary cubic discounts called Flat Rate Green, reducing the cost of your Priority Mail shipments even more.
Keep an eye on the blog for more Deep Dive segments covering First Class Package shipping rates and Priority Mail International shipping rates.
Or, if you're ready to start saving on shipping with the best rates available, let's set up a demo to go over how ShippingEasy can make 2018 your best year yet!
The following two tabs change content below.
I'm a digital content and social media nerd with a passion for telling stories, helping connect people, and finding joy in the details.
Latest posts by Rob Zaleski (see all)