Increasing the efficiency of your shipping programs is paramount to maximizing the benefits shipping offers your business. Adopting a simple strategy for shipping programs can cost more than you expect. Instead, carefully examine the ways shipping works best for your business. Maximize your programs and processes by understanding your business and your customers, then increasing efficiency based on that knowledge.
Consider the following tips and see how you can apply them based on the specific needs of your business. Remember, every incremental improvement you make will yield big dividends over time.
Ways You Can Maximize Your Shipping Programs and Processes
1. Automate where you can
The options for shipping automation just keep getting better and better. The more you take advantage of the benefits of automation, the more efficient your shipping programs and processes are likely to become. If you're hesitant about automation, don't worry, you're not alone. Every new technology should be reviewed carefully before you start relying on it. It's important to conduct your research, ask questions of other businesses, check out what current customers say about the solutions out there.
Suggested reading: Choosing the right shipping software
Every business is different, so the automation solutions that one uses may not be appropriate for your needs. But there are some that just about every business can take advantage of. AIDC—or automatic identification and data capture—is being utilized by countless businesses to collect identification information from every item that enters a building and track it as it travels through your system and onward out your doors.
Shipping rules, also called mapping, can turn many repeatable tasks into hands-free tasks, as well as streamline your shipping process in general. Through a series of IF/THEN statements based on order data, unique tags, and carrier selections, it's entirely possible to automate a large portion of your shipping, making your business much more efficient.
2. Optimize your warehouse
It can be easy to get complacent when it comes to warehouse organization. You set it up one way, and that way worked up until now. Why change it? The problem with this approach is that it does not account for differences in the way your business operates from how it once did. Even if things haven't changed much, is your current situation as efficient as it could be? Probably not.
Optimizing your warehouse may take some trial and error, but it is definitely worth your time. Talk to the people in your business that are tasked with getting things done in the warehouse and get suggestions on how things can be improved. Are your best selling items closest to the packing station? Can you reduce the number of steps employees need to take to accomplish a specific task? Even small changes will add up over time to improved efficiency.
ShippingEasy recently began offering on-site consultations with a shipping expert (available free with any paid plan) to help with this exact problem. Through experience working with businesses of all sizes, our shipping experts offer white-glove optimization of your shipping programs, from in-app processes to warehouse organization.
3. Compare rates between carriers to save.
Each of the major carriers—USPS, FedEx, and UPS—has their own benefits. Some are better when shipping certain types of packages. Depending on the distance, weight, size, and delivery time frame, you should be comparing and contrasting which option is most cost-effective for your business. This can be a tedious process when you don't have everything conveniently in one place.
You should also be comparing the options within a carrier to make sure you're using the best options they have available. For example, perhaps you are using USPS Priority Mail to ship a smaller, dense product. In this case, cubic rates may be your best option, particularly ShippingEasy's proprietary cubic rates, Flat Rate Green (available on select plans), which can save beyond Priority Mail prices in some instances.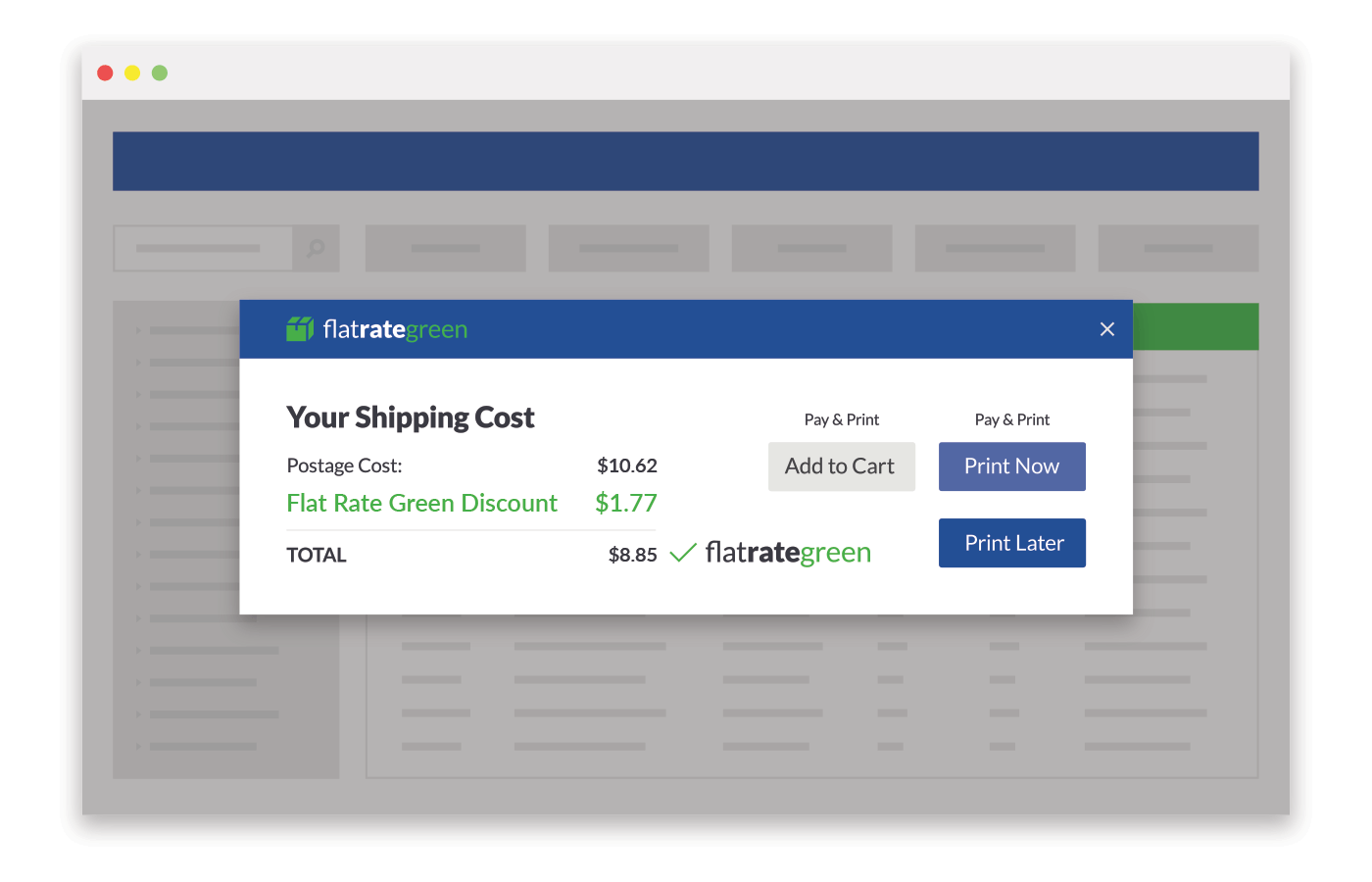 4. Choose the best shipping software for your company.
Shipping software can add to the efficiency of your shipping programs and processes in many ways. For instance, ShippingEasy's platform offers robust automation, hands-free label printing (in some cases), automatic order importing, confirmation and tracking emails, and more. Particularly when you sell across multiple channels, robust shipping software is an absolute must-have.
That being said, shipping is just the beginning. If you have a shipping platform that can help streamline other parts of your business, your shipping programs benefit. ShippingEasy's platform offers  customer marketing tools. This means:
Your customer data can be put to work in customer segmentation, promotional email campaigns, automated email campaigns, and more
This makes your shipping data even more valuable and centralizes other parts of your business around your shipping programs
Not all shipping platforms have everything you need, and some may have more than you need, depending on the size and scale of your business. It's crucial to assess what you need now and may need in the future so your shipping platform can grow with your business.
5. Analyze opportunities for new marketplaces.
E-commerce is always growing and changing. The most popular places to sell today may not be the most popular tomorrow. Even if some marketplaces retain their position as top dog, there is still the possibility that your particular business could do well in one or more other marketplaces.
It is imperative for businesses selling online to keep a constant eye out for changes and new opportunities in e-commerce. Maximizing your shipping programs sometimes requires finding new marketplaces and exploring what they have to offer. Not all marketplaces will be winners, but some of them most certainly will be.
Diversifying your business helps with stability. If you have a presence in only one or two marketplaces and one of them underperforms, then there will be more impact on your business. If you have a presence in 10 marketplaces, a loss of performance in a single one is much less impactful.
6. Take a look at your shipping team and strive to optimize that team.
No matter how much you automate or how great your shipping software, in the end, the performance of your shipping program comes down to people. Your employees are the backbone of everything you do, so it makes sense to ensure that they are able to perform to the best of their ability in each position.
Examine your processes to assess what everyone needs to be doing to get the job done. Take some time to talk to each member to gain an understanding of what is working and what isn't. Set clear expectations for what each team member needs to be doing and make sure they have the opportunity to do it. Between you, management, and employees, you should be able to fine-tune your shipping department through clear goals, achievable objectives and a team-wide commitment to quality and performance.
Increase Shipping Efficiency with ShippingEasy
The ShippingEasy team is here to help you maximize your shipping programs and processes. Click or tap below to check out our Definitive Guide to E-Commerce Shipping for more information on how you can get the most out of shipping for your business.
The following two tabs change content below.
I'm a digital content and social media nerd with a passion for telling stories, helping connect people, and finding joy in the details.
Latest posts by Rob Zaleski (see all)